More and more economists are predicting a recession is imminent as the result of the pullback in the economy caused by COVID-19. According to the National Bureau of Economic Research:
"A recession is a significant decline in economic activity spread across the economy, lasting more than a few months, normally visible in real GDP, real income, employment, industrial production, and wholesale-retail sales."
Bill McBride, the founder of Calculated Risk, believes we are already in a recession:
"With the sudden economic stop, and with many states shutting down by closing down schools, bars and restaurants…my view is the US economy is now in a recession (started in March 2020), and GDP will decline sharply in Q2. The length of the recession will depend on the course of the pandemic."
How deep will it go?
No one knows for sure. It depends on how long it takes to beat this virus. Goldman Sachs anticipates we will see a difficult first half of the year, but the economy will recover in the second half (see below):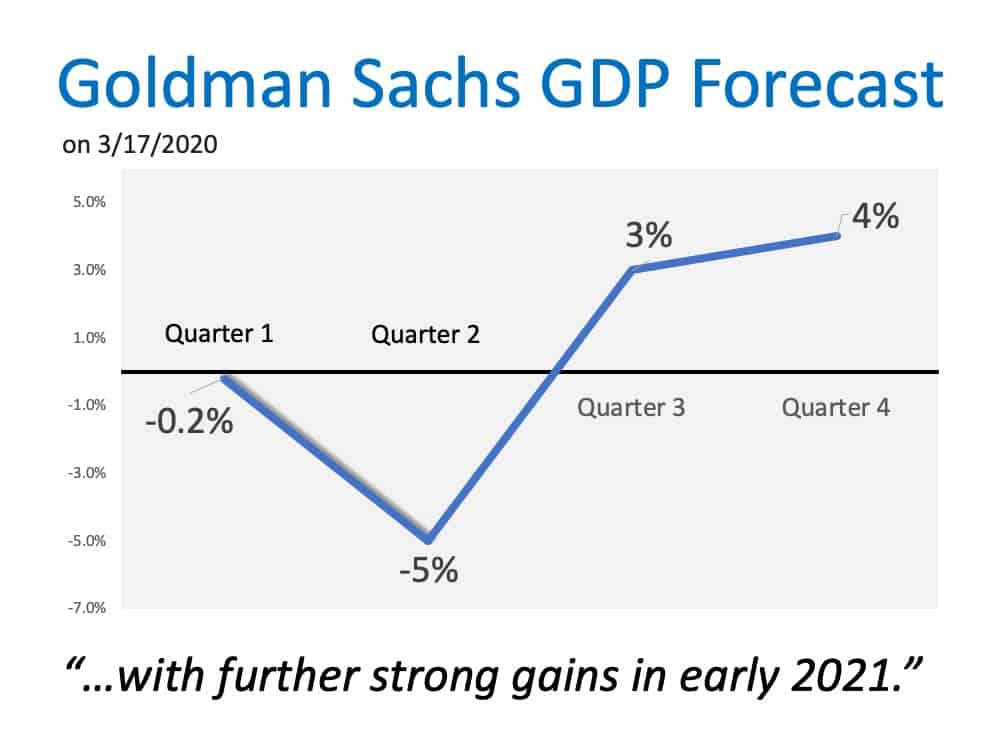 Goldman also projects we'll have "further strong gains in early 2021."
This aligns with the projection from Wells Fargo Investment Institute:
"Once the virus infection rate peaks, we expect a recovery to gain momentum into the final quarter of the year and especially into 2021."
Again, no one knows for sure how long the pandemic will last. The hope is that it will resolve sometime over the next several months. Most agree that when it does, the economy will regain its strength quickly.
*Quarter 1 data from Goldman Sachs was updated from 0% to -0.2% on 3/17/20 after the initial release.
Bottom Line
This virus is not only impacting the physical health of Americans, but also the financial health of the nation. The sooner we beat it, the sooner our lives will return to normal.
Search Denver Area Homes:
Start the process today by searching the MLS for your next home. Mortgage interest rates are still historically low and the metro Denver market has more housing inventory that it did a few years ago. Explore the homes available today to get a feel for price points, types of homes, and locations so you have a better feel when it comes time to take a more serious look. My Denver real estate blog is full of useful information for homebuyers considering buying a home. Please call me, or send me an email / text, to discuss your thoughts about your next home.
Please contact me before you look at new construction, remember the builder's real estate agent represents the builder's interest, not your's. There is no cost for you to have a buyer's agent represent you in a transaction with a sophisticated seller. In fact, I may be able to help you save money and negotiate for extras which the builder may not let you know about.
Get My List of Hot Properties » FREE Home Buyer's Guide »
Time To Sell Your Home?
When it is time to sell your home in the Denver area, I encourage you to work with a real estate agent who has the experience and knowledge to provide an accurate market comparison so you can determine the right asking price. The market is more balanced now and your asking price is an important component of your selling strategy. And if you are selling your home to then buy a new home, you're in luck, we are now in a "goldilocks" market ideal for that type of transaction. Contact me today to learn how your home stacks up against the competition and how we can position your property to sell quickly and for a fair price.