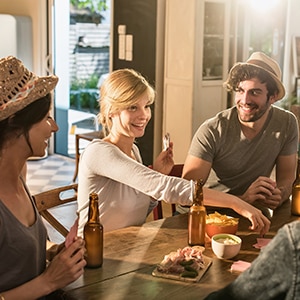 At some point in almost every adult's life, you realize that you want to own a home. Many have seen this transformation from their carefree younger years as almost biological: the need to own a little patch of land even if you don't live there all the time. Homeownership is part of the American dream for a reason and deep down, we all want to be the kings of our own castles. Of course, the housing market and our personal finances don't always line up with this aspiration. Maybe you're still many months of saving away from a decent downpayment or there just aren't many homes available that fit your 'dream home' criteria.
When the cards are stacked against independent home ownership for couples and singles, one solution always comes up: Why not just buy with a friend?
Buying Property With Friends
Many life situations can cause unmarried people to realize that they would be happy to share ownership of the same house if it would allow everyone involved to enjoy the satisfaction of home ownership. This idea is most common in young adults who are all ready for a home but often not financially built-up enough to buy individually. Parents will buy homes with their children to ensure both generations have a nice place to live. Siblings will buy together, and cousins have been known to partner up for shared benefit. Unmarried friends also sometimes decide to get all the benefits of shared homeownership without the marital relationship.
If you and someone you're not married to have been thinking about doing the same things, you'll need to progress forward carefully. This non-standard way of buying a house comes with complications as well as the many benefits of sharing the costs and enjoyment of the property. The best way to buy a house with friends is with a complete plan. Make sure to consider potential complications and the fact that situations will change in the future.
The Finances of Shared Ownership
The single biggest challenge of buying a home with another person is the shared mortgage. Mortgages have special rules in the financial world, rules that are a little too rigid for creative ownership schemes. Both (or all) of your names will be on the mortgage and both of you are on the hook for the entire amount, even though you are paying it off jointly.
What this means is that all co-owner credit scores will be impacted as if they took the entire loan out themselves. And if anyone stops paying their share of the mortgage, all credit scores take a hit even for those who have been paying their share regularly. And each co-owner is fully legally responsible for the full amount of the loan, providing leverage for the full amount should anyone drop out.
Always Lay Ground Rules
When going into shared ownership of anything, from a dog to a home, it's important to lay down co-owner ground rules that may be written into a contract before all is said and done. There are certain things that need to be agreed, in writing, that prevent unwanted abuses of your partnership. First, you should agree on how the property will be used by the co-owners and acceptable uses for the shared property. You'll want to ask each other a lot of questions to discover how you feel about potential future plans and what will happen to the property as plans change.
Will anyone be living in the property or is it a shared vacation home?
If you decide to rent it, how will the proceeds be distributed?

What if one person does all the work?

Who is allowed to live on the property?
What are your guest and rental policies?
You should not only know how the property will be used, but also what would be acceptable as your plans for usage changed. Put together a document that clearly describes the agreements made by all potential co-owners for how to manage the property.
Legal Ownership Options
Once you know how the property will be shared, it's time to talk legal agreements. Traditional home co-ownership is done in one of two ways but both involve owning shares of the home that must be managed with buy-outs. The two types are Tenants in Common, in which each owner has an individual share or stake in the home, and Joint Tenants with Survivorship which is more popular for family members buying together. As with all legal matters, it is best to discuss with an attorney before you finalize your plan.
Tenants in Common
If you decide to go with a Tenants in Common title, this will allow you to decide how much percentage each co-owner has in the home. For groups that are not all putting up equal portions of the downpayment or paying equal portions of the rent, this can be ideal. Each tenant in common is still responsible for the whole amount of the mortgage should others fall through and has equally complete control over the home, in general. However, in legal matters, larger percentage owners may prevail if your shares are uneven.
It should be noted that if a tenant in common dies, their share will go by default to their next of kin, who will become a new co-owner. And if the house is sold, proceeds will be split up by ownership percentage.
Joint Tenants with Right of Survivorship
The other way to go about co-ownership is joint tenancy. In this arrangement, every co-owner possesses a matching percentage of the home even if there are more than two joint owners. While you can create an equal split with tenants in common titles, joint tenancy allows for the right of survivorship, where co-owners will each automatically get an even share of ownership if one of the owners passes on. This is usually the most practical choice for married couples and for siblings who take joint ownership of a family home. However, it can also be very convenient for the right friend group.
The Exit Strategy Puzzle
The one deterring factor of both tenant in common and joint tenant titles is the hassle if a co-owner wants to drop their share. In both arrangements, remaining tenants are required to buy out the shares of departing members in order to maintain shared control of the home. Otherwise, a co-owner might sell their shares to a completely new owner who might be a stranger to their new title partners.
This is why it's important to have an exit strategy for shared homeownership. There are two ways for someone to get out of co-ownership. Either they have to sell their share of the home to their co-owners, sell the shares to a new co-owner, or everyone must agree to sell the house and split the proceeds.
Many groups put together a contractually binding agreement that fellow co-owners will get the first option to buy from a departing partner. However, even this can put an unexpected financial burden on owners who want to keep the house if others want out.
Single-Owner Alternative Solutions
So in looking at the possibilities for buying with friends, we've identified some serious potential hurdles. Mainly, that sharing a big financial burden is a risky decision. However, doing things the traditional way isn't your only option. For friends that really do just want all the perks of home ownership with shared responsibilities, there are other arrangements. These include nominating a single representative homeowner with a sharing contract, forming an LLC to buy the property, and buying then splitting a multi-family property.
One Representative Owner
Effectively, everyone pools their money and lends it to their most responsible friend to buy a house with. In return, the friend signs a contract guaranteeing the others full investor's access, a right to rent, and a right to a percentage of rental or sale profits. This has most of the benefits of sharing a home purchase but none of the financial entanglement or complications. It does put a lot of power and most of the equity-benefits into one person's hands but they can pay that back by taking greater responsibility for home maintenance. And, of course, they are the ones on the hook of the group stops helping with the mortgage.
Forming an LLC
Especially for larger groups of friends who want to buy property together, it can be much less complicated to simply form a Limited Liability Company and maintain that year over year rather than worrying about five to eight different names on the title. Instead, you can handle all your ownership deals and complications inside the LLC rules of conduct while the LLC itself holds onto the property. For small deals, this can be more hassle than it's worth but if you're willing to maintain the company, it can significantly simplify group property ownership.
Splitting a Multi-Family Property
There are a surprising number of duplexes, triplexes, and small apartment buildings also known as quad-plexes out in the world and they often have a harder time selling than single-family units. If you and your friends are just looking for a great deal and a way to share the satisfaction of home ownership, consider looking into a multi-unit property. This gives you an entirely new menu of legal options from splitting up the title into four separate 'condo' units with a mini-HOA to starting a shared commercial real estate company.
Buying a property with your friends or family can be a great idea if everyone involved is committed and financially prepared for the shared venture. However, the best shared ownership arrangements are always planned carefully ahead of time. Make sure that there is an exit strategy and a shared responsibility agreement that everyone is comfortable with and start house-hunting. For more helpful insights for first time home buyers, contact us today!