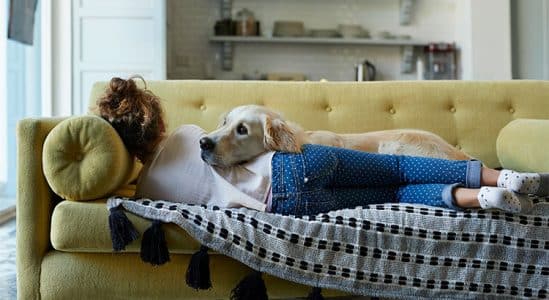 One of the many benefits of owning your own home is the freedom to find your 'furever' friend. By pointing out the aspects of your home that make it 'pet-friendly' in your listing, you'll attract these buyers, rather than alienating the 68% of American households that have a pet!
If you are one of the many homeowners looking to list your home for sale, how do you stand out to the millions of pet parents searching for their dream home?
Whether a dog person, a cat person, or someone who prefers the company of another pet species, 99% of pet owners say that they consider their animal to be family. When finding a home, 95% of animal owners believe it is important that a housing community allows animals.
A study by the National Association of Realtors (NAR) revealed that there are many aspects of the home buying, selling and owning experience that have been greatly impacted by our love for our pets.
This should come as no surprise, as $72 billion was spent on pets in the U.S in 2018. NAR's President William E. Brown shed some light on the impact of pet owners and their home search.
"It is important to understand the unique needs and wants of animal owners when it comes to homeownership. REALTORS® understand that when someone buys a home, they are buying it with the needs of their whole family in mind; ask pet owners, and they will enthusiastically agree that their animals are part of their family."
The Power of Pets When Choosing the Right Home
89% of pet owners say they would not give up their pet due to a housing restriction
81% of Americans say their pets play a role in their housing situation
31% of animal owners have refused to put in an offer on a home because it wasn't a good fit for their animals
19% of Americans say they would consider moving for their pet
12% percent have moved for their pet
New home builders have actually begun installing retractable pet gates that tuck away neatly inside door jams as a highly requested feature in new homes to attract pet-parents.
So, if you are a homeowner looking to sell in today's pet-friendly environment, point out the features of your home that will attract pet owners:
Fully fenced in backyard – (91% of pet owners ranked this as the most important feature of a home to accommodate their pet)
Locations of dog parks/walking paths/pet-friendly beaches in the area (71% ranked this as the top feature of any neighborhood they would consider)
Proximity to veterinarians/groomers/pet supply stores (31%)
Bottom Line
Americans love their pets and will look for pet-friendly features in the home they wish to buy, so take advantage of this knowledge by pointing out your home's ability to meet their needs.
Start Your Home Search:
Are you ready to start searching for your Denver area home? It's a great time, we have more inventory than we did the past few years. I encourage you to explore homes currently on the market to get a feel for the types of homes, locations, and price points. My Denver real estate blog has loads of useful information for home buyers trying to figure out what they want to do. And of course, please call me, or send me an email / text, to discuss your next home and the buying process.
Also, if you are considering new construction, remember the builder's real estate agent represents their best interest, not yours. There is no cost for you to have an agent represent you. In fact, I may be able to help you save money and negotiate for extras which the builder may not let you know about.
Get My List of Hot Properties »
Considering Selling Your Home?
If you are looking to sell your home in the Denver area, I encourage you to work with a real estate agent who has the experience and knowledge to provide an accurate market comparison so you can determine the right asking price. The market is more balanced now and your asking price is an important component of your selling strategy. Contact me today to learn how your home stacks up against the competition and how we can position your property to sell quickly and for a fair price.