The economy is currently experiencing the longest recovery in our nation's history. The stock market has hit record highs, while unemployment rates are at record lows. Home price appreciation is beginning to re-accelerate. This begs the question: How long can this economic recovery last?
The Wall Street Journal (WSJ) Survey of Economists recently called for an economic slowdown (recession) in the near future. The most recent survey, however, now shows the economists are pushing that timetable back. When asked when they expect a recession to start, 42.5% of the economists in the previous survey projected between now and the end of 2020. The most recent survey showed that percentage drop to 34.2%. Here are the most current results: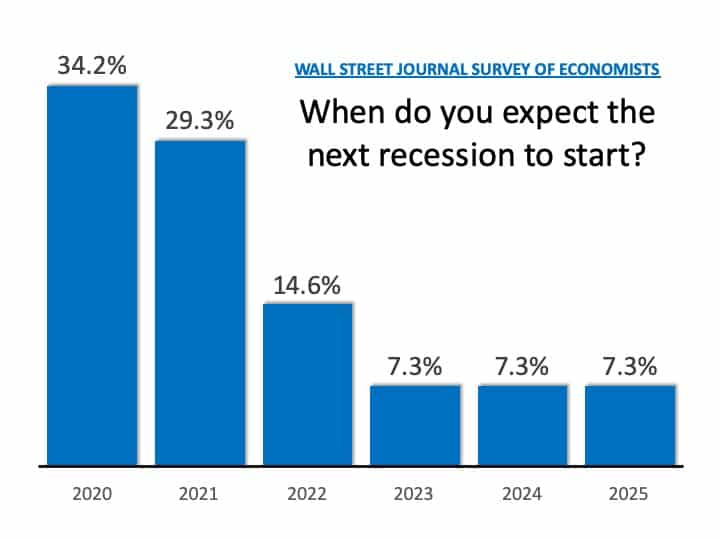 Like the economists surveyed by the WSJ, most experts are still predicting a recession will likely occur sometime in the next few years. However, many are pushing back the date for the economic slowdown.
Bottom Line
Real estate is impacted by the economy (and the consumer's belief in the strength of the economy). The fact that most economic experts are calling for the recovery to continue through 2020 means the housing market will also remain strong for the foreseeable future.
Start Your Home Search:
Are you ready to start searching for your next home? It's a great time, we have more inventory than we did the past few years. I encourage you to explore homes currently on the market to get a feel for the types of homes, locations, and price points. My Denver real estate blog has loads of useful information for home buyers trying to figure out what they want to do. And of course, please call me, or send me an email / text, to discuss your next home and the buying process.
Also, if you are considering new construction, remember the builder's real estate agent represents the builder's interest, not your's. There is no cost for you to have a buyer's agent represent you. In fact, I may be able to help you save money and negotiate for extras which the builder may not let you know about.
Get My List of Hot Properties »
Considering Selling Your Home?
If you are looking to sell your home in the Denver area, I encourage you to work with a real estate agent who has the experience and knowledge to provide an accurate market comparison so you can determine the right asking price. The market is more balanced now and your asking price is an important component of your selling strategy. Contact me today to learn how your home stacks up against the competition and how we can position your property to sell quickly and for a fair price.