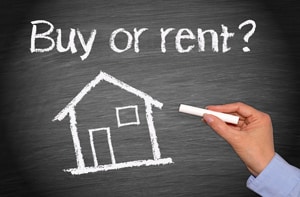 If you are trying to figure out whether renting vs buying a home is better for you, this page provides a lot of information to help you. For starters, many renters ask: Is it better to rent or own my home? So you are in good company. While there are some really good reasons to rent — such as, you do not plan to stay in your current general location for over 3 years — there are also many great reasons to own your home.
Please contact me — 303-242-8831 — and let's discuss your options. Buying a home is often more attainable than people may think. And with the home value appreciation trend we have seen in the metro Denver area since 1992, buying sooner than later may have a big positive impact on your future. For instance, today's home buyers are tomorrow's homeowners and benefit from that ownership.
---
Buy vs Rent: Consider The Financial Imapct
Impact on paying yourself versus paying your landlord
Check out this chart that shows how much rent may cost you. Your money is being used to pay down your Landlord's mortgage instead of your own home mortgage. Imagine if you were paying down your mortgage, and as a result gaining equity with every monthly payment. It's a form of forced savings that benefits you later in life. Landlords won't write you a check at retirement; they've banked your money for their own benefit.
Example comparison for a renter and homeowner over 7 years
This chart shows a cost comparison for a renter and a homeowner over a 7-year period. The renter starts out paying $800 per month with annual increases of 5% The homeowner purchases a home for $110,000 and pays a monthly mortgage of $1,000. After 6 years, the homeowner's payment is lower than the renter's monthly payment. With the tax savings of homeownership, the homeowner's payment is less than the rental payment after 3 years.
Rent vs Buy Calculator
This Buy versus Rent Calculator can help you get a sense of how renting a home and owning your home may affect your overall financial outlook over time. Of course, these numbers are approximations and will vary from your actual experience.
For a more in-depth understanding of how renting or buying your home affects your situation, please reach out to me. I am happy to share what I know and always treat the information shared with me with respect and confidence. This is about helping you find your best path forward, whatever that may be.
---
An Example Calculation
Below is a video from Salman Kahn on the economic considerations of renting versus buying, which highlights how important it is to run the numbers based on real world examples in the local real estate market. At times, it is cheap to buy in one part of the country and expensive to buy in another part of the country. In his example, he uses an interest-only loan calculation as a baseline example to show how much of a normal initial mortgage payment goes toward covering interest on the note.
---
Charts Comparing Owning Versus Renting a Home
Chart: Median Rental Rates Over 30+ Years
Homeowner vs. Renter Net Worth Comparision
Comparison Highlights of Renting vs. Owning a Home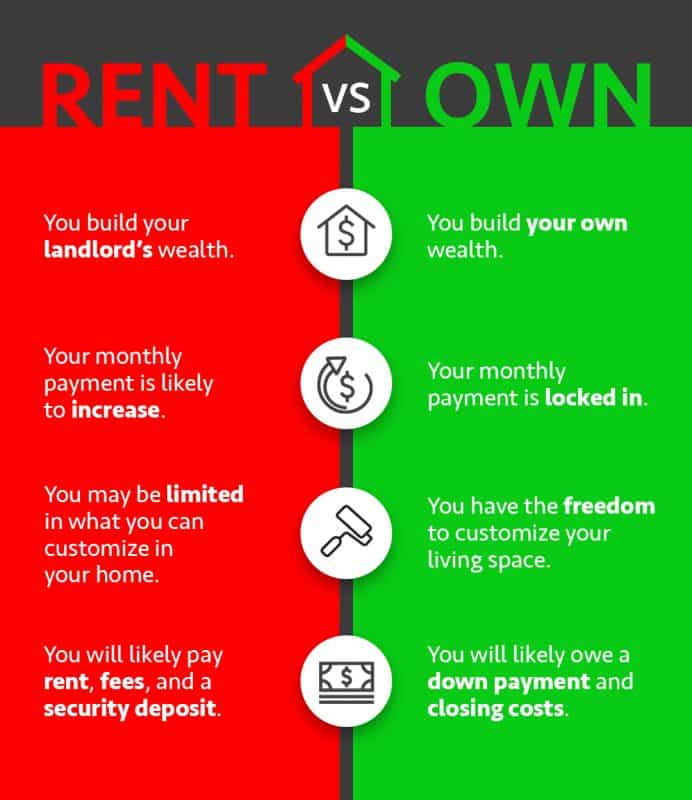 Chart: The Median Renter Across Markets
Median Renter: Share of Affordable Homes
---
Please reach out and let me know your thoughts about renting vs buying a home.
If you are interested in buying a home, pick your next step…
---
Buying vs Renting: Advantages and Disadvantages
| RENTING A HOME | Advantages | Disadvantages |
| --- | --- | --- |
| | Limited monthly costs | Landlord can sell property, resulting in you moving when you may not want to |
| | Not responsible for upkeep or repairs | Potential for annual rent increases |
| | Lower upfront costs | Limited or no ability to upgrade or remodel |
| | Able to relocate more easily | Paying your landlord's mortgage, growing their equity instead of your own |
BUYING A HOME
Advantages
Disadvantages
Fixed mortgage payment amount
Relatively large upfront cost
Your house, your rules
Additional property expenses
Remodel and make other permanant changes to property
Responsible for all repairs and upkeep
More location security
Less flexibility if you need to relocate
Each payment builds your equity (forced savings)
May cost you more than renting if you do not own the property for more than _

3

_ years
Monthly payments may be the same or even less than a rental.
Ability to refinance loan to reduce monthly payments, reduce total interest to be paid, take cash out, etc.
Tax savings
Video: Discussing pros and cons of renting and owning a home
---
Selected blog posts for Renters:
Recent blog posts for Renters and Buyers:
Economic Podcast: Rent vs Own
Hear from the First American Title economists on their take about buying vs renting a home in this podcast.
---
Frequently Asked Questions
Do I need to save up a 20% down payment before buying a home?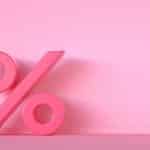 No. There are many options available and it is not uncommon for buyers to contribute 0%, 3%, 5%, 10%, or another amount for a down payment on a mortgage.
.
How much do I pay a Buyer's agent when buying my first home?
Potentially $0. Many sellers pay both the Listing and Buyer agent commissions because it frees up buyers to put more money toward paying for the property — a win-win for the buyer and seller.
.
---
---