The demand for homes this year is extraordinary as record-breaking numbers of hopeful buyers continue to shop for homes. In a normal year, the peak homebuying season comes to a close by early fall. However, 2020 is anything but a normal year, and the housing market is no exception. Lawrence Yun, Chief Economist for the National Association of Realtors (NAR), explains:
"Home sales traditionally taper off toward the end of the year, but in September they surged beyond what we normally see during this season…I would attribute this jump to record-low interest rates and an abundance of buyers in the marketplace, including buyers of vacation homes given the greater flexibility to work from home."
What's drawing so many buyers to the market?
As Yun mentioned, record-low interest rates are key. Today's rates are strengthening purchasing power for buyers, too. Sam Khater, Chief Economist at Freddie Mac, emphasizes:
"Mortgage rates today are on average more than a full percentage point lower than rates over the last five years."
If you're a homebuyer right now, there's no question that you want to take advantage of this opportunity – and you're not alone. Competition among buyers is definitely increasing as more buyers enter the market and mortgage interest rates remain so low.
Who's planning to buy a home right now?
Today's affordability is appealing to all generations and seems to be especially attractive to younger buyers who want to begin growing their wealth through homeownership. There's a distinct increase this year in the percentage of those in younger generations searching for homes. The National Association of Home Builders (NAHB) notes:
"Between the third quarters of 2019 and 2020, the share of Gen Z adults planning a home purchase rose three points to 14%. Millennials, however, are the generation most likely to be considering buying a home (22%)."
Here's a graph showing the year-over-year increase in homebuying interest by generation: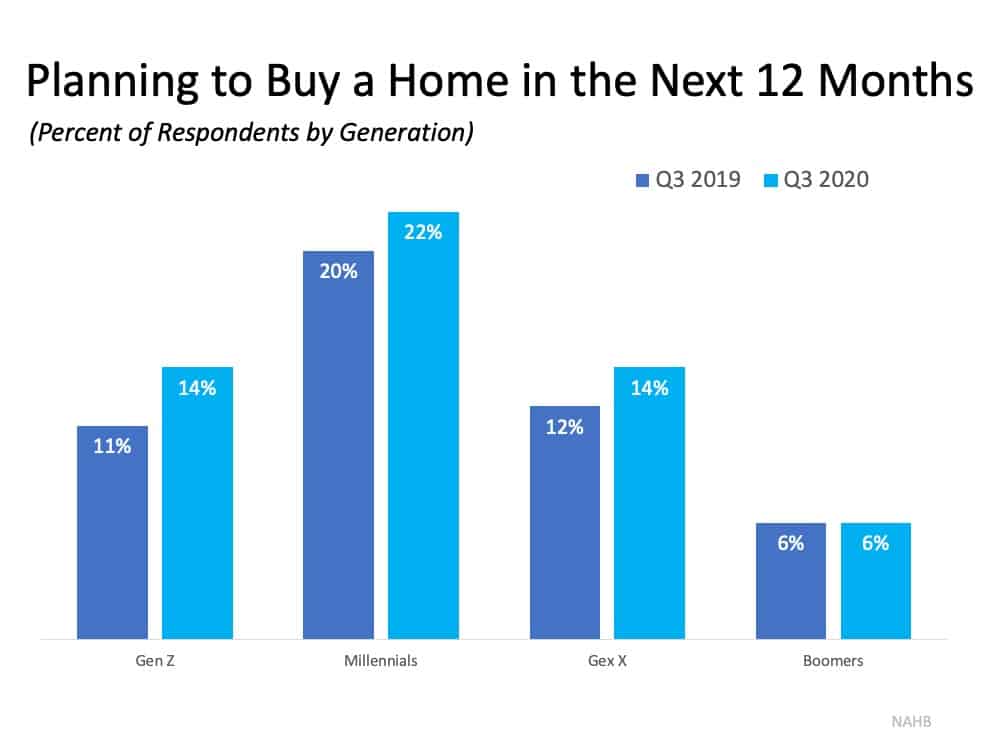 According to Mark Fleming, Chief Economist for First American, millennials are reaching their prime home-buying years, a likely driver in this increase:
"Record low mortgage rates and millennials continuing to age into their prime home-buying years has boosted demand, but a lack of housing supply remains a challenge."
What's the biggest challenge for today's buyers?
Finding a home, however, as Fleming notes above, is clearly a challenge today. Yun also explains:
"There is no shortage of hopeful, potential buyers, but inventory is historically low."
With so many buyers actively searching for homes this year and so few houses for sale, it's more important than ever to work with a trusted real estate professional to navigate today's market. From pre-approval to bidding wars and guidance on down payment assistance resources, having an agent by your side might make the difference in your ability to land your dream home.
Bottom Line
Let's connect if you're ready to buy a home. More buyers mean more competition, so you need an expert guide to help you stand out from the crowd.
Start Your Home Search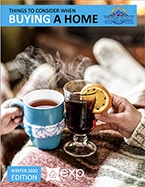 Starting the home buying process is easy and involves a few simple steps: Download my Home Buyers Guide to learn general information. Search for homes currently on the market to get a feel for the types of homes, locations, and price points available. And of course, please call me, or send me an email / text, to discuss any thoughts about your next home, the buying process, and the most important next step.
Get My List of Hot Properties »
When It Is Time To Sell Your Home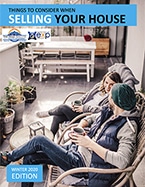 Find out how much your home is worth and download my free guide for home sellers for helpful information. It is important to choose a REALTOR® who can develop an effective marketing strategy for your property, negotiate well on your behalf, and has the knowledge to provide an accurate market comparison so you can determine the right asking price. The market is more balanced now and your asking price is an important component of your selling strategy. Contact me today to learn how your home stacks up against the competition and how we can position your property to sell quickly and for a good price.
My Denver real estate blog has loads of useful information for home buyers trying to figure out what they want to do…
Real Estate Housing Market | Buying a Home | Selling a Home | Financing a Home | Renting | Homeownership | Investing