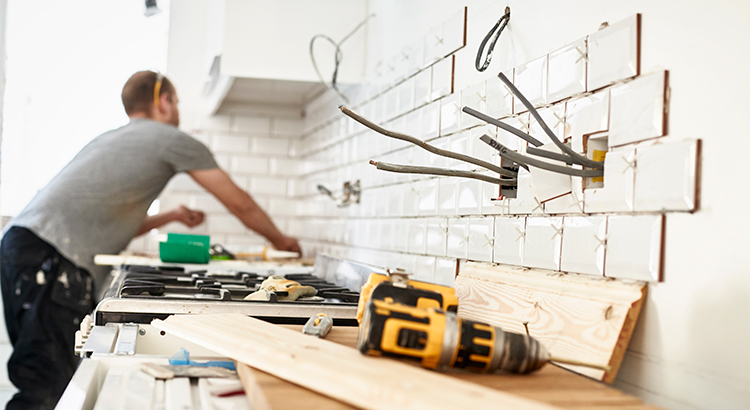 If you're thinking about remodeling your house before you list it, take a look at these three tips to help you decide if you really need to fix it up before you sell. The answer may surprise you.
With the fall season upon us, change is in the air. For many families, children are growing up and moving out of the house, maybe leaving for college or taking a jump into the working world. Parents are finding themselves as empty nesters for the first time. The question inevitably arises: is it finally time to downsize?
If you're pondering that thought, you may also be wondering if you should fix-up your house before you sell it, or go straight to the market as-is, allowing a potential buyer to do the updates and remodeling. If you're one of the many homeowners this camp, here are a few tips to help you decide which way to go.
1. Analyze Your Market
A real estate professional can help you to understand your market and the potential level of buyer interest and demand for your home. Are you in a seller's market or a buyer's market? This can change based on the price range of your home, too. A professional can also give you some insight on what you can change or remodel, and how to declutter your house to make it attractive to buyers in your area.
2. Get an Inspector
Right now, the average length of time a family stays in a home is between 9-10 years. That's a little longer than the historical average, so if you've been living in your home for a while, it might be time to make some significant improvements. Think: electrical system, HVAC units, roof, siding, etc. An inspector can give you a better idea of the condition of your home, if it is up to current code standards, and recommendations on how to have your house ready before you put it on the market.
3. Decide If You Need to Remodel
You may also be thinking about driving buyer appeal with something like a kitchen or a bathroom remodel. If so, first dig into the market value of your home, and compare it to the actual cost of the remodel. A local real estate professional can help you determine your home's market value, and you'll want to get a few quotes from contractors on the potential remodel pricing as well. Once you have those two factors narrowed down, you can to decide if a remodel will give you a return on your investment when you sell. Oftentimes, it is actually more advantageous to price your house to sell, list it competitively, and then let the buyer pick the colors they want for their bathroom tiles and the type of countertop they prefer. The 2019 Cost vs. Value Report in Remodeling Magazine compares the average cost for remodeling projects with the value those projects typically retain at resale.
Bottom Line
Nationwide, inventory is low, meaning there is less than the 6-month housing supply needed for a normal market. This drives buyer demand, creating a perfect time to sell. If you're considering selling your house, let's get together to help you confidently determine what will be the best choice for you and your family.
Start Your Home Search:
Are you ready to start searching for your next home? It's a great time, we have more inventory than we did the past few years. I encourage you to explore homes currently on the market to get a feel for the types of homes, locations, and price points. My Denver real estate blog has loads of useful information for home buyers trying to figure out what they want to do. And of course, please call me, or send me an email / text, to discuss your next home and the buying process.
Also, if you are considering new construction, remember the builder's real estate agent represents the builder's interest, not your's. There is no cost for you to have a buyer's agent represent you. In fact, I may be able to help you save money and negotiate for extras which the builder may not let you know about.
Get My List of Hot Properties »
Considering Selling Your Home?
If you are looking to sell your home in the Denver area, I encourage you to work with a real estate agent who has the experience and knowledge to provide an accurate market comparison so you can determine the right asking price. The market is more balanced now and your asking price is an important component of your selling strategy. Contact me today to learn how your home stacks up against the competition and how we can position your property to sell quickly and for a fair price.