Young children through to older adults will find excellent opportunities to make use of the great outdoors in Lakewood, Colorado. Whether you want to retreat to nature or find a playground or hold a family or business picnic, there is an adventure waiting for you in this spectacular area.
The number of parks in Lakewood is an amazing 99 in number and cover over 7,100 acres of open space. In addition, that includes 188 miles of trails that are ideal for walking, hiking, biking and horseback riding. You can also participate in environmental education experiences in forestry and horticulture programs. Here are some examples of the well-recommended local popular and picturesque Lakewood parks.
Lakewood Parks

BEAR CREEK LAKE PARK
This Lakewood park is a majestic natural setting that is open year-round. It offers a wide variety of activities including camping, fishing, swimming, water skiing, hiking, horseback riding, boating, an archery range, and more. It also offers programming for the whole family including naturalist programs, summer camps, and guided hikes. The park is an ideal outdoor classroom with many different habitats. Hands-on experiences provide a fun outdoor learning environment for all participants.
WILLIAM FREDERICK HAYDEN PARK ON GREEN MOUNTAIN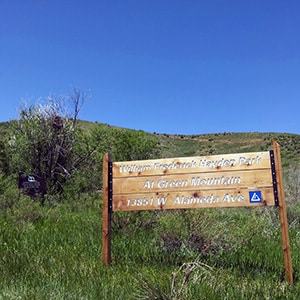 Hours: Daily 5:00 a.m. – 10:00 p.m.
This is the second largest park in Lakewood with over 2,400 acres of open space, a network of multi-use trails, a summit of 6,800 feet, and spectacular views of Denver. Originally home to buffalo, its habitat now has a wide variety of wildlife including mule deer, rabbits, hawks, coyotes, bluebirds, and mountain lions. During the first half of the 20th century, the north side was used as an artillery target range for the Colorado National Guard's training facility, Camp George West. The U.S. Army Corps. of Engineers, the Colorado Army National Guard, and the Colorado Department of Public Health and Environment have all been diligently working to clean up the old munitions and any debris. It is a great open space for hiking and mountain biking.
ADDENBROOKE PARK
Hours: Daily 5:00 a.m. to 10:00 p.m.
Near many homes, this park is ideal for children as well as the whole family with its softball and baseball fields, basketball courts, tennis courts, a walking path, a playground, and more. You can reserve and rent one of two picnic shelters near the lake and playground with six tables and two barbecue grills in each or a third shelter with six tables but no barbecue grill.
BELMAR PARK
Hours: Daily 5:00 a.m. to 10:00 p.m.
Conveniently located across from Lakewood's primary shopping district, Belmar, this park has a network of paths for walking and biking and a playground. There is access to the Heritage Center, which also has parking available for those who want to go to the park. Enjoy the Lakewood Heritage Center's museum with its 30,000 artifacts and more than 10 historic structures that give an amazing view of the lifestyle and inventions of the 20th century. There is also an outdoor amphitheater, a festival area, and the 20th Century Emporium with its unique retro products popular then.
AVIATION PARK
Open Daily from 5:00 a.m. to 10:00 p.m.
The landscaping is well maintained, and it is a terrific place for fun as the playground is airplane themed with a climbing wall leading to the slide, swings, and other play structures. There is a picnic shelter with tables and barbecue grills, so you can even bring lunch and sit close enough to the playground to watch your kids play.
LOOKOUT MOUNTAIN PARK
Outside the city of Denver, it's worth the long and amazing drive to go here to get clean and crisp air as well as fantastic views of Denver, Golden, the Continental Divide, and other surrounding breathtaking scenes. Deer and elk are also all over the place, and you also have to watch out for the crazy skateboarders that whiz by! Take your camera for pictures, a bunch of quarters for the machines that give magnifying landscape views, and money to spend in the old-fashioned adorable little shop with home-made vegetable soup. Buffalo Bill's gravesite and museum are there, also.
KENDRICK LAKE PARK
This gorgeous park with views of the Front Range has a one-mile trail that goes around the lake over little bridges where you can watch geese and ducks swimming. A small boardwalk lets you walk out on the water for a better look at the wildlife and vegetation. A little garden features flowers and plants with descriptions of what you see.
A perfect place for a picnic, there is a shelter with picnic tables, shaded spots if you prefer to put a blanket down in the grass, and paths that lead to secluded benches near the lake. The awesome playground has two separate sets of equipment separated by swings with three big kid swings and three baby swings as well as slides and climbing equipment.
EARTH DAY
Saturday, April 23, 2016 from 8:00 a.m. to Noon. Registration deadline: April 18.
Celebrate Earth Day by getting involved in numerous projects throughout the park.
FULL MOON HIKES
Thursday, April 21, 2016 from 7:00 p.m. to 8:30 p.m.and Saturday, May 21 from 7:30 p.m. to 9:00 p.m.
The whole family can spend the evening with a park naturalist as they are guided along one of the many trails for an average of one to one-and-a-half miles.
Enjoy all the fabulous amenities of the Lakewood parks.
For more information on the Lakewood, Colorado area and parks, or Lakewood real estate and homes, please do not hesitate to contact me anytime.