March 2023 Real Estate Market Update with Scott Rodgers
Metro Denver's real estate market is showing familiar characteristics, absent much of the twists and turns and spike we saw the during the past few years. The "COVID" market unwound itself the second half of last year. Today's market is more like 2019, where we are seeing a seasonal boost in buyer interest and shorter days on market. However, it is notably muted compared to the last several years. While there is strength, it matters more now that listing agents sharpen their pencils when recommending listing prices. And buyers are able to negotiate things like a contingency to give time to sell their current home. In short, it is a more comfortable market than we have seen in several years. Yeah! This provides a great opportunity for homeowners that plan to sell in order to buy their next home as they do not have to compete on their buy side like they would have in the past. Home valuations cooled off a bit last year and are showing resilience in our new higher-interest mortgage rate market.
I've aggregated the housing market information below to help Denver home buyers and sellers understand the metro Denver housing market. I hope it enables you to make the best decisions for your situation and goals. While it is one thing to hear an Agent tell you something about the market, it is another to have access to so much professionally reviewed and assembled housing market data from multiple sources. Newspaper and TV news journalists often use this same data to report on the housing market each month. If you value data and details, here is your deep dive. Please contact me for an executive summary or an explanation more relevant to your individual situation… I continually think about the market and enjoy applying my insights for your benefit!
I look forward to receiving your email, call, text, or social app message, and hope to be of service to you or someone you know in 2023…

Let's take a look at the most recent metro Denver housing market reports using data compiled from February…
---
Denver Housing Market Update – March 2023
Reported in March using data from February, by the Denver Metro Association of Realtors:
---
Metro Denver Housing Market Watch – March Report – REcolorado MLS
Median Closed Price and Median Days in MLS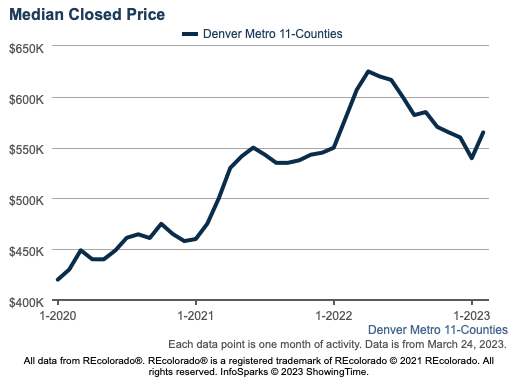 ---
Mortgage Interest Rate Chart
---
Mortgage Interest Rates and Mortgage News Headlines
---
Next Steps…
Contact Me
Here is an easy way to send me a quick message…
"*" indicates required fields