When deciding to buy a home, people are presented with many different options. The type of home you buy depends on your needs, budget, and in many cases, the desired maintenance level. For many millennials, their choice has been buying a condominium!
According to CoreLogic,
"Last year about 43% of all condo home-purchase mortgage applications were submitted by FTHBs… Similarly, the data show condos were more popular with young homebuyers and empty nesters. For instance, 21% of all condo home-purchase mortgage applications were submitted by buyers aged 18 to 30, compared with just 17% of all single-family home-purchase mortgage applications by the same group in 2018."
With home prices increasing year-over-year, it makes sense millennials are buying condos instead of a single-family house. As a result, the demand for this type of home has been increasing.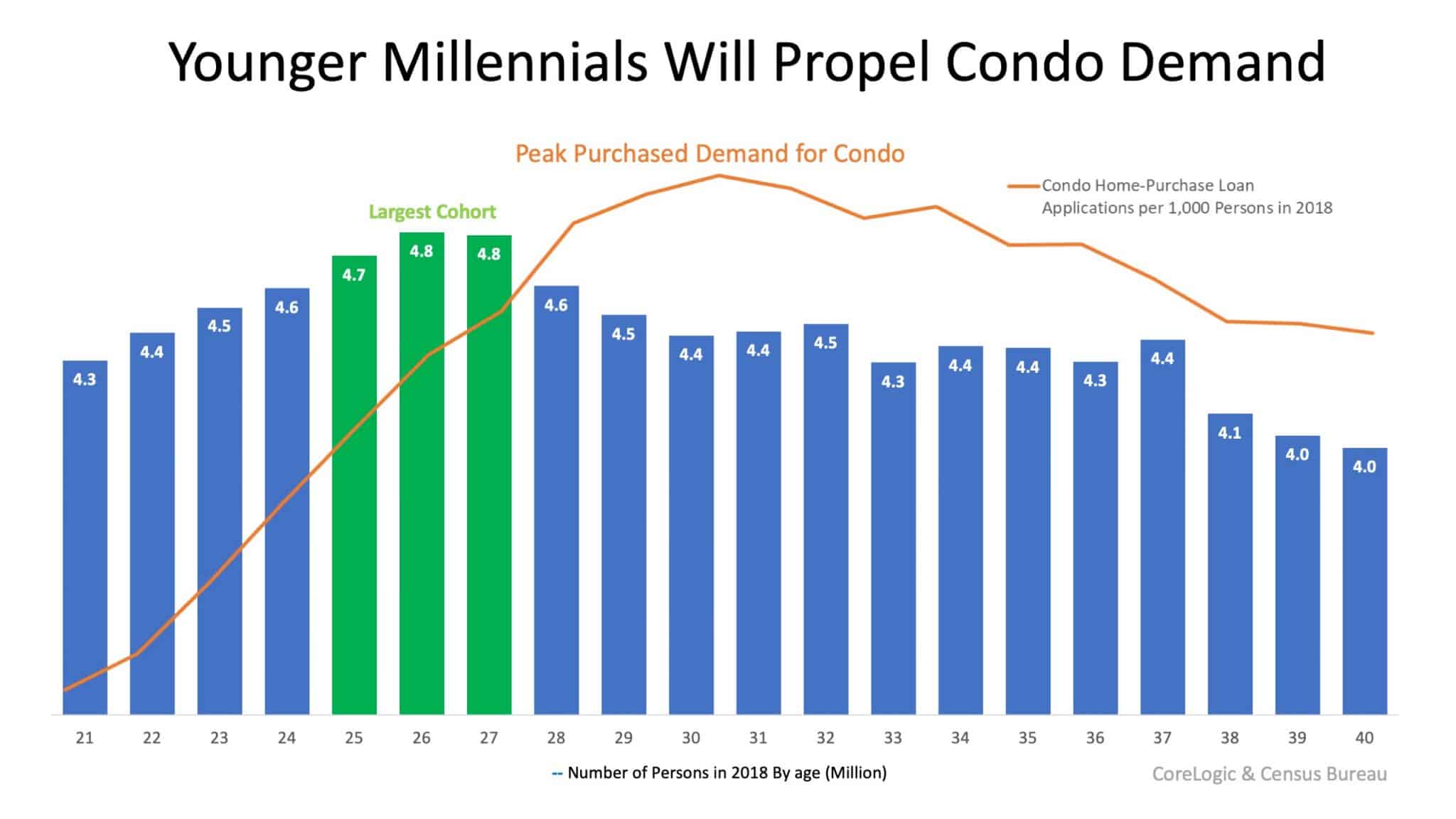 As this graph explains,
"The younger millennials are the largest cohort and are likely to drive much of the condo demand in the coming years".
Bottom Line
If you are a millennial considering buying a home, understand that there are many options available. You may find yourself in a condominium as your first home. If you would like to determine which type of home best fits your needs, let's get together to evaluate your options!
Start Your Home Search:
Are you ready to start searching for your next home? It's a great time, we have more inventory than we did the past few years. I encourage you to explore homes currently on the market to get a feel for the types of homes, locations, and price points. My Denver real estate blog has loads of useful information for home buyers trying to figure out what they want to do. And of course, please call me, or send me an email / text, to discuss your next home and the buying process.
Also, if you are considering new construction, remember the builder's real estate agent represents the builder's interest, not your's. There is no cost for you to have a buyer's agent represent you. In fact, I may be able to help you save money and negotiate for extras which the builder may not let you know about.
Get My List of Hot Properties »
Considering Selling Your Home?
If you are looking to sell your home in the Denver area, I encourage you to work with a real estate agent who has the experience and knowledge to provide an accurate market comparison so you can determine the right asking price. The market is more balanced now and your asking price is an important component of your selling strategy. Contact me today to learn how your home stacks up against the competition and how we can position your property to sell quickly and for a fair price.