Over 10% of all residential homes are purchased by investors, and that number continues to rise. Who are these investors?
Many have speculated that the large institutional conglomerates such as Blackstone, American Homes 4 Rent, and Colony Starwood dominate investor purchases. However, a special report on investor home buying by CoreLogic, Don't Call it a Comeback: Housing Investors Have Been Here for Years, shows this is not the case.
Ralph McLaughlin, CoreLogic's Deputy Chief Economist and author of the report, explained his findings at the recent National Association of Real Estate Editors conference in Austin:
"Investor buying activity in the U.S. is at record highs. And our records go back confidently, about 20 years…

What's going on and why? Well, it turns out, it's not the big institutional guys that are leading the increase in home buying. It's actually the smaller guys. It's those that have bought between one and ten properties over this 20-year period, they're the ones that are really leading the increase in investor home buying."
Here is the breakdown of the percentage of purchasers by type of investor over the last six years according to the report: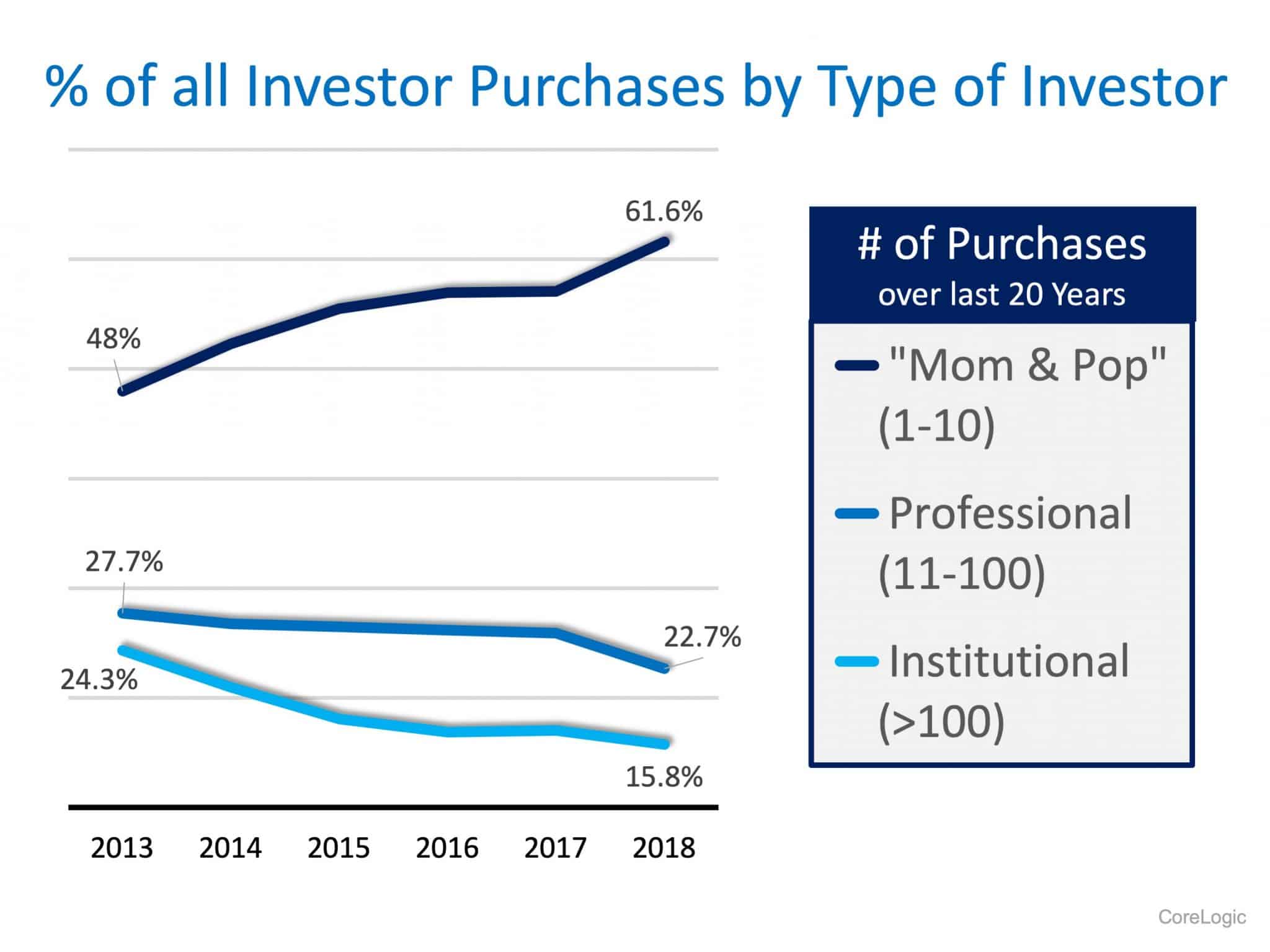 As the graph shows, the percentage of "Mom & Pop" investors is currently dominating the number of homes purchased by investors, as the percentage of homes purchased by both professional and institutional investors is falling.
Bottom Line
Most houses purchased by an investor are bought by small investors looking to diversify their financial portfolio by adding a real estate component. If you are investing in real estate as either a landlord or someone who fixes-up and flips the house, let's chat about the ways you can build or liquidate your current portfolio of properties.
Start Your Home Search:
Are you ready to start searching for your next home? It's a great time, we have more inventory than we did the past few years. I encourage you to explore homes currently on the market to get a feel for the types of homes, locations, and price points. My Denver real estate blog has loads of useful information for home buyers trying to figure out what they want to do. And of course, please call me, or send me an email / text, to discuss your next home and the buying process.
Also, if you are considering new construction, remember the builder's real estate agent represents the builder's interest, not your's. There is no cost for you to have a buyer's agent represent you. In fact, I may be able to help you save money and negotiate for extras which the builder may not let you know about.
Get My List of Hot Properties »
Considering Selling Your Home?
If you are looking to sell your home in the Denver area, I encourage you to work with a real estate agent who has the experience and knowledge to provide an accurate market comparison so you can determine the right asking price. The market is more balanced now and your asking price is an important component of your selling strategy. Contact me today to learn how your home stacks up against the competition and how we can position your property to sell quickly and for a fair price.